Christmas Whiskey & Gin Gift Sets
Looking for the perfect whiskey or gin gift set this Christmas?
At Pearse Lyons Distillery we have lots of festive treats to surprise the whiskey and gin lovers in your life this Christmas. Along with our five signature whiskeys, we have a number of whiskey hampers and Ha'Penny Gin Gift Sets, the latest whiskey and cocktail books and not to mention our distillery exclusive Bean & Goose Distiller's Choice handmade chocolate truffles available. No matter how small or big your budget is this Christmas, Pearse Lyons Distillery has something for everyone.
Our Pearse Whiskeys are gift wrapped and bagged for Christmas, but if you are in search of a hamper our prices start at €39.95 for a bottle of The Original and two distillery glasses. All hampers are made to order.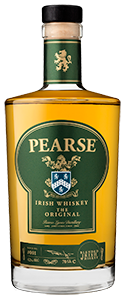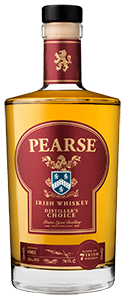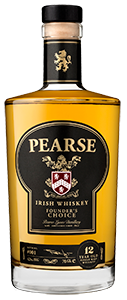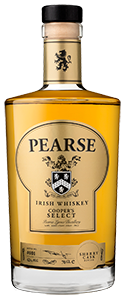 The Pearse Whiskey Collection   
The Original
The Original has a light, smooth and easy taste with a hint of spearmint that warms to hints of semi-sweet chocolate, light oak wood, creamy vanilla and light caramel. It has a mild malt character, is well balanced and finishes with a crisp smooth spice.
Distiller's Choice
Our Distiller's Choice has a smooth, warm, light oak flavour with hints of green grape evolving to caramelised pear. As Pearse Distiller's Choice develops you will savour a hint of cocoa and dried fruits while finishing with notes of stewed apple, clove and custard.
Founder's Choice
If a 12 year old single malt is more your style, our Founder's Choice has hints of lemon, dried orange and a touch of honeysuckle which finishes deliciously smooth and leaves you with warm notes of ginger and clove.
Cooper's Select
Our seven-year-old masterpiece is our limited edition Cooper's Select that was first aged in bourbon barrels and then re-casked into first fill sherry casks. This has a big wood and sherry influence and is perfect for a Christmas tipple.
Pearse Five-Year-Old Single Malt Whiskey 
The release of Pearse 5-Year-Old Single Malt Irish Whiskey marks a historic milestone in the re-evolution of the Irish Whiskey distilling industry. It is the first five-year age statement Irish whiskey to appear from a new distillery in the whole of Ireland in more than 25 years. Presented in 4,000 individually numbered bottles, this limited release 5-Year-Old Single Malt was produced on two small-batch copper pot stills, and aged in bourbon casks.
Bean & Goose Distiller's Choice Pearse Irish Whiskey Truffles
If your gifting chocolate this Christmas, why not pick up a box of our distillery exclusive Distiller's Choice Pearse Irish Whiskey Truffles which are handmade by Bean & Goose. These retail at €16.50 and are sure to delight the chocolate lover in your life.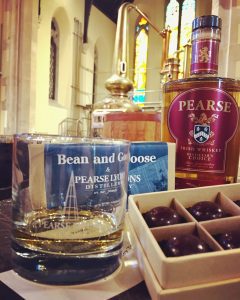 Christmas Cracker – Pearse Cooper's Select
Our distillers like to describe this as Christmas in a glass – if you are looking for a small stocking filler this is the perfect gift. Inside this Christmas cracker you will find a miniature 5cl bottle of Cooper's Select. These Christmas crackers retail at €12.95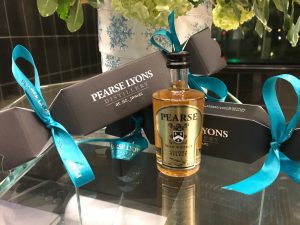 Ha'Penny Gin and Ha'Penny Gin Rhubarb Gift Sets 
These gin gift sets are sure to please with a selection of gin filled baubles or bottles and glassware sets available.
Looking for a last-minute gift card?  
If you can't decide on what to buy, why not play it safe with our distillery gift card. These cards can be treated like cash, allowing the receiver to purchase tour tickets and spend money in our gift shop.
All of these gifts are available for reception in our Visitor Centre on James's Street, Dublin 8. For more information on our festive offerings call us on +353 01 691 6000 or email info@pearselyonsdistillery.com.
Find us and join the conversation @pldistillery | #pearselyonsdistillery